Jim Olsen  | El Refugio Director  | jim@haciendaelrefugio.org  | Suzy Olsen | Special Projects & Short-Term Teams | suzy@haciendaelrefugio.org | Kaia, Espen, Eloise & Ava Olsen |  www.olsensinecuador.com
Jim and Suzy Olsen arrived in Ecuador in 2012. They have four children and live in Calacalí, just a few minutes walking from El Refugio. Their daughter Kaia was born on February 3rd, 2012, and son Espen was born on April 30th, 2014. Eloise (Ella) was born on November 30th, 2016 and Ava was born on January 20th, 2018. Jim and Suzy met while pursuing their undergraduate degrees at Concordia College in Moorhead, MN. The Olsens lived in Big Sky, MT for two years after getting married in December of 2006, and lived in Ithaca, NY for just over three years prior to their move to Ecuador. While previously holding the Communications Director role and leading Short-Term Teams Coordination, Jim stepped in as Interim Director of El Refugio in August of 2016. In June of 2017 he formally started as El Refugio's Director.
Jim is the son of a Pastor and began formally taking part in missions during the summers of 2003 – 2005, participating in 'Summer Servant Teams' though the denomination he grew up in. In college he served at a Christian Bible Camp in Minnesota (Inspiration Point Bible Camp) and after graduation from college he and Suzy co-managed the outdoor youth adventure program at Lone Mountain Ranch in Big Sky, MT for two years. Jim worked as a leasing agent and construction team coordinator of PPM Homes House Rentals in Ithaca, NY from 2008 – 2011 where he and Suzy also served on the global missions committee and worked together as part-time worship coordinators at Bethel Grove Bible Church. The Olsens have a love for the outdoors and relational ministry and feel very much at home living in Calacalí, Ecuador.
To learn more about the Olsens and their story, visit their website, www.OlsensInEcuador.com.
  Doña Piedad Albarracín | Housekeeping & Kitchen Staff
Doña Piedad joined our housekeeping and kitchen staff in the summer of 2013. Her son, Pablo, has been a facilitator with El Refugio for several years, so her joining our staff was a natural extension of an existing relationship and has been a huge blessing. Piedad has a true heart of a servant and is very involved in her local church. She lives in Caspigasí, a small town between Calacalí and San Antonio. After several groups requesting pig dinners over the years, Doña Piedad took it upon herself to volunteer as the staff member to feed and care for a pig we could raise and have on property for such occasions. So, she is our in-house pig farmer as well!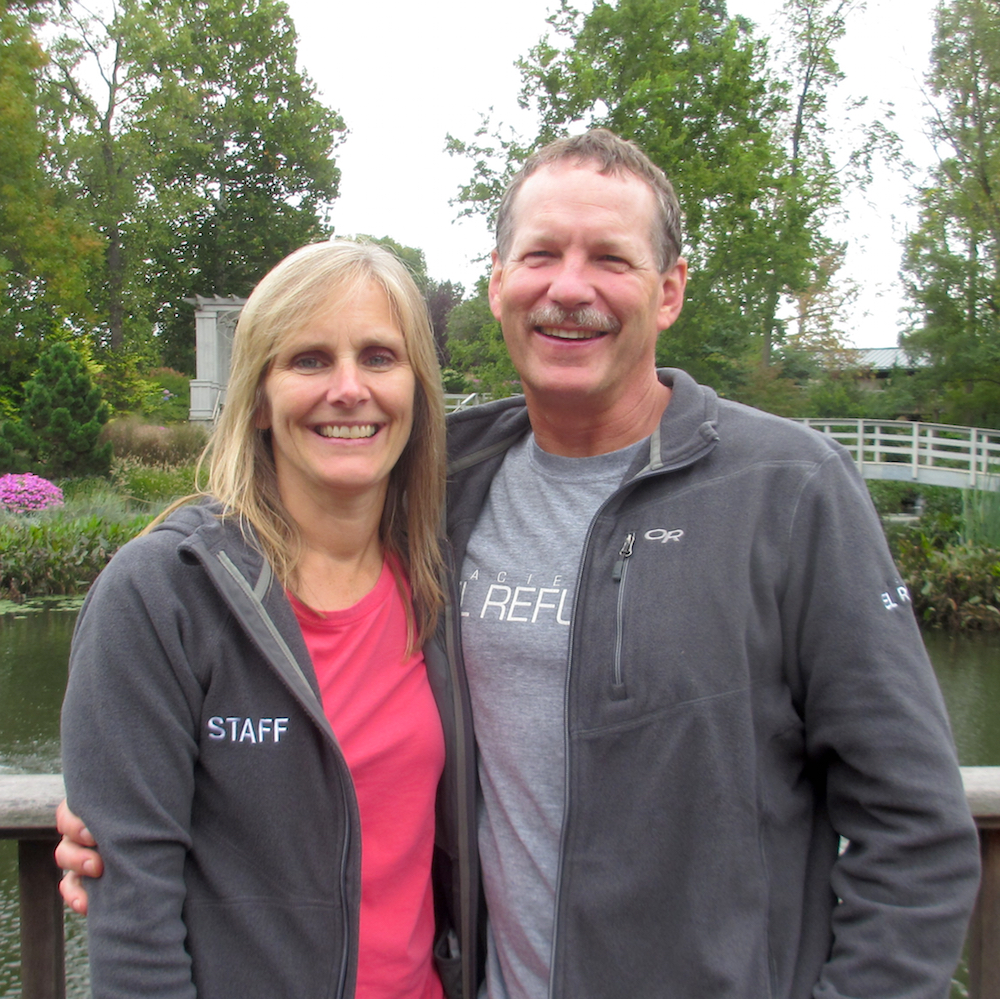 Rick and Sue Borman | North American Representatives | rick@haciendaelrefugio.org
Rick and Sue Borman have served with International Teams since 1998. In 1999, they founded a camp ministry in the mountains of Ecuador called "El Refugio" and continue to be involved in that ministry to date.
Rick and Sue live in Michigan, at present with 4 of their 7 children, and primarily work with: US mission teams, interns and missionary staff recruiting, and fund raising for projects. Rick travels to Ecuador frequently supporting the work of El Refugio and leading short term mission teams.
  Aurelio Bustamante | Property Staff
Aurelio is Cofán and is from a village called Sinangüé. Being Cofán, naturally Aurelio's first language is Cofán, not Spanish. Not only does he speak Spanish very well, but he has attended English classes held at El Refugio with the desire to grow in his ability to converse with others in English. Aurelio plays guitar, sings, and has written many of his own songs. In addition to being a great musician (his music is for sale in our store), he is also a pastor. Aurelio has four children, two of whom still live with him here on the El Refugio property.
  Enrique Cajas | Property Staff
Enrique is a member of our property staff and specializes in agriculture. The bulls that many often see plowing the corn fields at El Refugio, or simply wandering the property, belong to Enrique. Enrique is very involved in local, community level government. His warm smile and inviting personality make it easy for our summer team members to connect well with with Enrique, despite the language barrier.
   Ryan Coryell | Program Director of Leadership Development | ryan@haciendaelrefguio.org | Erica Coryell | Finances | erica@haciendaelrefugio.com |  Caleb & Evan
Ryan and Erica Coryell arrived in Ecuador in January of 2011. They are from Greensboro, NC and worked in Refugee Resettlement prior to coming to Ecuador. Erica is in charge of El Refugio's finances and Ryan is integral to leadership of our program team, his primary focus being discipleship. Thus, he has on-going, intentional relationships with our facilitators and oversees all intern programs throughout the year here at El Refugio. Ryan and Erica live on property and are house parents at our discipleship and community house, where their desire is to walk and do life alongside many of our interns and facilitators.
  Grace Fabry | Micro-business and Backpacking | grace@haciendaelrefugio.org
Grace Fabry was born and raised in San Diego, California. She grew up with a thirst for adventure and a love for the outdoors. Grace graduated from Gordon College in 2014 with degree in Economics and a minor in Outdoor Education. In the fall of 2015, she joined the Youth World team. At Hacienda El Refugio Grace focuses her time on small business projects with hopes to use the natural resources of the property to generate a profit for the ministry. She also is involved in the program department, specifically with backpacking trips.
 Ivi Flores | Retreats Specialist | ivi@haciendaelrefugio.org
Ivi is a member of our program team, working as a Retreats Specialist. She first found out about El Refugio in January of 2017 when one of our staff members shared with her about what we do. She loved the idea of being able to share Christ with people through outdoor adventure ministry and got involved in February that same year. Ivi is excellent at facilitating group experiences and using debriefs as a way to speak into the lives of our participants.
Ivi's passion for facilitating for transformation comes out of her experience as a facilitator. Early on, while helping to facilitate one of our low ropes challenges, another facilitator asked a powerful question during the debrief, and God used it to make a lasting impact on Ivi's life, giving her the confidence to step out in faith and trust Him completely.
  Lucas Ingram | Intern Recruiter | lucas@haciendaelrefugio.org
Lucas came to El Refugio in the winter of 2017. He grew up with his family in Minnesota. Lucas is passionate about helping others, spending time outdoors, being with family, growing in Christ through community, and learning more about Ecuadorian culture. These specific passions that God has given Lucas led him to El Refugio to grow in his walk with Christ and serve others. Currently living in Minnesota, Lucas helps in recruiting to grow our North America Internship Program. 
  Pedro Iza | Property Staff
Pedro is the oldest member of our property staff. A man of few words, Pedro always strives for perfection in the work he does and has a very contagious smile.
  Jessica Jami | Retreats Coordinator | info@haciendaelrefugio.org
As our Retreats Coordinator, Jessica is the staff member who walks through the process of informing, scheduling, and taking care of groups who are interested in doing our programming and all that we offer. She was born in Puyo (the Pastaza province) and graduated from University in 2013 with a degree in tourism.
Jessica began her involvement with El Refugio during her University practicums while also taking part in our 'Aire Libre' program as an intern in 2012. That time made a huge impact in her life and influenced her decision making, developing in her the desire to pursue opportunities where she could best be used to serve the Lord.
During her time living in Shell and Puyo she had the opportunity to serve in her local church with young adults and on the leadership team for home groups (Bible study groups), while also being a part of the leadership team of Young Life, Ecuador. In both cases, she focused intentionally on relationally rich friendships and discipleship. She loves working with young adults. Jessica joined the staff of El Refugio in February of 2015.
  Samantha Ortiz | Adventure Designer | samantha@haciendaelrefugio.org
Samantha began her involvement with El Refugio as a volunteer facilitator in the fall of 2014. Samantha is from Quito and formally joined our staff in June of 2016.
  Anita Pallo | Housekeeping & Kitchen Staff
Anita and her family live in the neighborhood beside El Refugio, known as Magdalena. She has been a member of our housekeeping and kitchen staff since 2010. Anita always greets you with a smile and is a deeply valued member of our staff. Family is a deep value of Anita's, and on the weekends she plays soccer on a local women's team.
  Daniel Peñaloza | Program Director of Logistics | daniel@haciendaelrefugio.org | Katy Roldan | katy@haciendaelrefugio.org | Finance Assistent | Daughter: Abigail
Danny began his involvement with El Refugio as a facilitator. He became an intern, a part-time staff member, and eventually a full-time team staff member. Danny has served as an interim Program Director and currently provides leadership to our program team in conjunction with Ryan Coryell. Danny loves working with his hands. He has built and designed almost every component of our low and high ropes course elements and is in charge of ropes course maintenance. Danny is also very skilled with woodworking and has built many functional, wood furniture pieces as well as artistic pieces. Danny's wife, Katy, is also very involved in our ministry. In addition to being a full-time mom and trained facilitator, Katy works part-time in our finance department, overseeing monthly expense reports and helping Erica with group payments and other aspects of our finances. Danny and Katy have become integral to our ministry.
  Wilmar Santos | Adventure Designer | wilmar@haciendaelrefugio.org
Wilmar joined the El Refugio staff in May of 2016. His involvement began back when he was a child, as he attended the VBS's that summer teams would provide in Calacalí. Wilmar has lived all of his life in Calacalí and has been a leader in the local church for years. He has been a facilitator at El Refugio since he was old enough to qualify, and participated in our ALTURAS internship in 2013. Wilmar has a passion for youth and discipleship and continues to be involved in leadership of the youth group at the Calacalí church while working on the El Refugio staff.
 Holger Soto | Property Staff | holger@haciendaelrefugio.org | Angélica Paldines | Housekeeping & Kitchen Staff
Holger and Angelica live in Calacalí and are parents to Kenner, Bladimir, and Rebekah. Holger was one of El Refugio's first staff members. Rick Borman hired his father to work at El Refugio in the early days of the ministry and Holger was hired in 2000. Holger is a talented jack-of-all trades and pays incredible attention to detail. Holger has a great sense of humor and is currently leading our property staff team. Angélica is not only an excellent cook, but she has also learned to make some incredible desserts. Angélica provides leadership to the housekeeping and Kitchen staff under Israel's supervision and continues to grow in her current role. Angélica and Holger live across the street from Anita's family in Magdelena. Their two families are very close.
  Israel Villacrés | Director of Guest Services & Hospitality | israel@haciendaelrefugio.org
Israel was born in Quito, Ecuador and has been serving with El Refugio since 2008. He began his involvement as one of our facilitators, and since then has filled various roles, primarily in the administrative realm. His current role has him working closely with our Retreats Coordinator, who facilitates the process of group reservations. Beyond that, Israel provides oversight and direction to our Housekeeping and Kitchen staff; those who prepare and serve food and beverages and work in housekeeping.
El Refugio has been a place where God has allowed Israel to develop his passion for working with youth as well as developing personal relationships with people from various cultures and backgrounds.
  Jorge Yánez | Property Staff
Jorge is from Calacalí and works on our property staff, helping with maintenance and various building projects. Jorge joined the El Refugio team in 2016 as a part-time worker, helping us with the Dining Hall project. After seeing his abilities and humble heart, we hired Jorge full-time. He is a great addition to our property staff.